From Pass Books
A Free Tote Bag with Every Signed Jenna Bush Hager Book

Several months ago, I made an error. I did not order enough signed copies of Everything Beautiful in Its Time by Jenna Bush Hager when its publication was announced.
Earlier this month, we sold through our orginal order of multiple cases quickly.
Nothing lost if you don't try, so I contacted the publisher and explained that we needed more. I know how busy the author is so I had little hope of additional signed copies.
A day later I had a response, "Ms. Hager signed more copies and is sending along a free tote bag to give away with every purchase."
Well, what could be better news than that? Except that after several days the books did not arrive. I called the publisher. Whoops - they had been mistakenly shipped to another bookstore. Calls were made, and what was left of the signed copies were sent to us via Next Day Air.
Long story short - signed copies of Everything Beautiful in Its Time are now at Pass Books/Cat Island Coffeehouse along with a tote bag.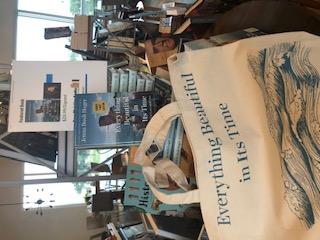 In this Issue...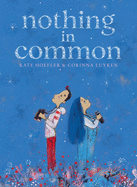 United by the search for a missing dog, two children discover that they are more alike than they knew.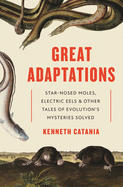 Studying small creatures leads to big insights and vivid tales in this engaging and informative book about the scientific life.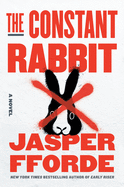 This satirical fantasy parallels right-wing attitudes toward immigrants in an alternate England, where more than a million human-sized, talking rabbits are being oppressed by the government.
Review by Subjects:
Fiction ⋅ Mystery & Thriller ⋅ Science Fiction & Fantasy ⋅ History ⋅ Social Science ⋅ Psychology & Self-Help ⋅ Science ⋅ Art & Photography ⋅ Children's & Young Adult

Book Candy
10 Books About Social Media
Author Matthew Sperling shared his top 10 books about social media with the Guardian.
---
"How a team of calligraphers brought Jane Austen's fictional letters to life." (via Atlas Obscura)
---
"More/moor than/then two/too/to." Merriam Webster featured a homophone quiz.
---
"Read Roald Dahl's heartbreaking 1986 letter about the importance of vaccinations. (via Mental Floss)
---
"Horrifying women: 7 novels with diabolical villainesses" were chosen by Denise Jarrott of the New York Public Library.
---
"Discovered: the user manual for the oldest surviving computer in the world." (via Open Culture)

Introducing Hill House Comics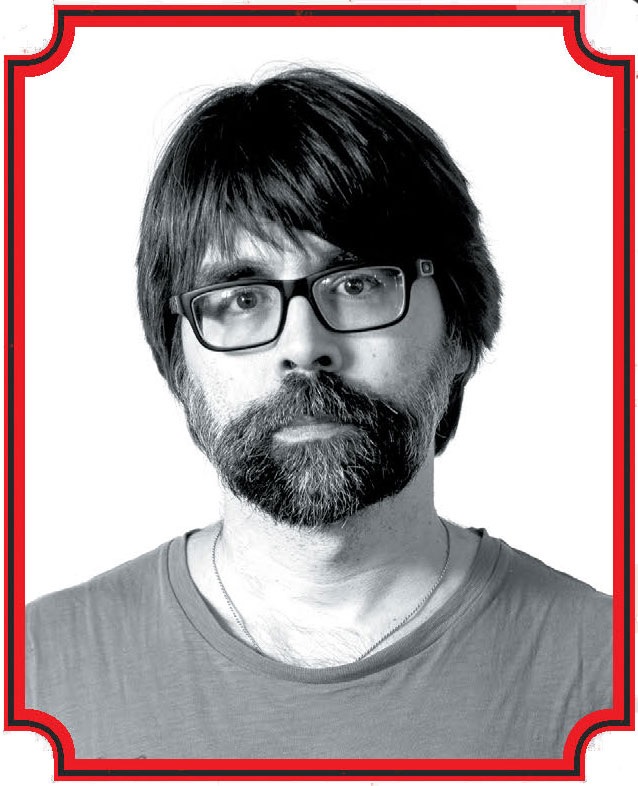 Joe Hill
DC's Hill House Comics is a new line of original, cutting-edge horror graphic novels that is being curated by horror writer Joe Hill, who is also the author of two of the first five titles from the imprint. With works by some of the biggest names in horror storytelling, Hill House Comics aims to terrify readers with a smart, subversive and scary lineup, each with a slightly different flavor of horror.
The first five titles are being published at a time when horror is having its moment. One sign of that it's the season for horror: The Low, Low Woods, being published today and written by Carmen Maria Machado, with art by Dani, has been nominated for the Indies Next list! (More on The Low, Low Woods in the following article.)
The other four initial titles:
Basketful of Heads written by Joe Hill and art by Leomacs, which was published on Tuesday, September 8 ($24.99, 9781779502971).
The Dollhouse Family written by Mike Carey with art by Peter Gross, which will be published on October 13 ($24.99, 9781779504647).
Daphne Byrne written by Laura Marks with art by Kelley Jones, which appears November 3 ($24.99, 9781779504654).
Plunge written by Joe Hill with art by Stuart Immonen, which will be published November 17 ($24.99, 9781779506887).
Joe Hill, of course, is the author of many bestselling horror titles. including The Fireman and Heart-Shaped Box; Horns, which was made into a feature film starring Daniel Radcliffe; NOS4A2, which is a forthcoming TV series from AMC; the story collection 20th Century Ghosts, winner of the Bram Stoker Award and British Fantasy Award for Best Collection; and Strange Weather, a collection of novellas, published three years ago. His long-running comic book series Locke & Key, featuring the art of Gabriel Rodriguez, won him the Eisner Award for Best Writer.
The idea for Hill House Comics goes back at least to 2016 when Joe Hill and Mark Doyle began talking about "me taking a dip in the Sandman Universe," Joe Hill says. "Eventually, though, we started talking about how the last few years have represented a kind of golden age for horror. Every year brings a new wave of smart, expertly crafted films in the genre, like It Follows and Get Out; the streaming channels are having a horror gold rush with shows like Lovecraft Country and The Haunting of Hill House; a new generation of brilliant horror writers (most of them women) are making scare with shockers like Sarah Pinborough's Behind Your Eyes and Catriona Ward's forthcoming The Last House on Needless Street. I wanted comics to get into the action and Mark said why not?"
Asked about elements the first five Hill House Comics graphic novels share, Joe Hill says, "This was something all of us talked about: taking these very different stories and finding little ways to bind them together. On a visual level, there's a shared color palette, which I sometimes describe as 'three drops of blood stirred into cream.'
"On the level of narrative, I've foisted my almost certainly ridiculous ideas about story math on all the writers. They miiiiiight also be shared universe? Certainly there are narrative connections between some of these tales, although I've sworn not to give away any details."
To say Joe Hill has enjoyed working on Hill House Comics is an understatement. "There were a lot of highs," he says. "I don't know that I could just pick one. Reading the script for Carmen Maria Machado's first chapter of The Low, Low Woods, which was like drinking a perfectly made old fashioned. The page where Daphne Byrne literally feeds a predator his own hand. A masterfully grotesque image, dreamt up by Laura Marks, and executed with a delicious lack of restraint by Kelley Jones. Leomac's light touch with a character moment, his ability to find a comic tenderness in a woman lifting a supernaturally animated severed head and wiping away the snot under his nose. M.R. Carey's calm, disciplined mastery. Every time Stuart turned in a new page. The way David Stewart colors a shaft of light falling through a murky cloudscape. Oh, oh, oh! And we did a back-up feature about werewolves winning the revolutionary war. For some reason every single page artist Dan McDaid turned in made me laugh, especially when he began flinging around the gore. I can't explain it. The dude just made me cry with laughter."
Joe Hill hopes that booksellers and librarians understand their key role in the comic book world, saying, "It's more important than ever that booksellers and librarians pick up the banner for comic books--the artform has never needed their support more. The vast majority of comic lovers never set foot in a comic shop! They discover their next favorite read at the library or their local indie bookstore. Think of the graphic novel section as the punk rock section in a record store. For a certain kind of reader, graphic novels are a shot of adrenaline mixed with a shooter of validation... they're confirmation that it's okay to have a head whirling with ideas about horror movies and superheroes and the permeability of reality.
"As for the Hill House imprint, these are good stories for people who love Stranger Things and Sandman, who want a rush in the dark that ends with a scream and a shout of laughter."
The Low, Low Woods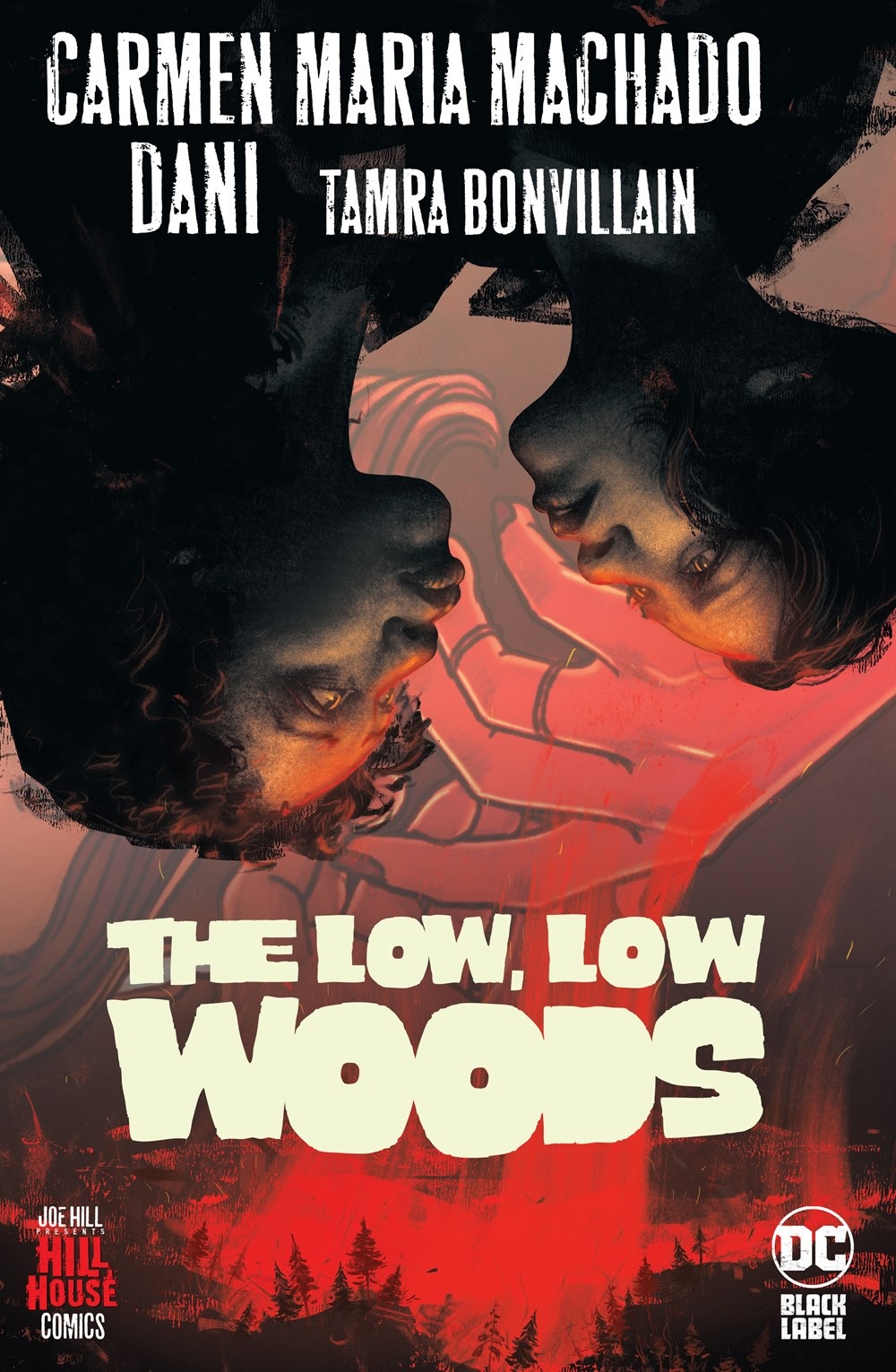 The Low, Low Woods. Written by Carmen Maria Machado, art by Dani, covers by Sam Wolfe Connelly and J.A.W. Cooper ($24.99, 9781779504524, September 29).
Nominated for the Indie Next list, The Low, Low Woods is set in Shudder-to-Think, Pennsylvania, which is plagued by a mysterious illness that eats away at the memories of those affected by it. El and Octavia are best friends who find themselves the newest victims of this disease after waking up in a movie theater with no memory of the past few hours. As El and Vee dive deeper into the mystery behind their lost memories, they realize the stories of their town hold more dark truth than they could've imagined and that no one around them is entirely what they seem, except perhaps for the Skinless Men in the deep woods and the Deer Woman who appears by moonlight.... It's up to El and Vee to keep their town from falling apart and keep the world safe from Shudder-to-Think's monsters.
Carmen Maria Machado calls The Low, Low Woods "Pennsylvania Gothic, body horror, environmental horror. There a lot of different sub-genres going on." The book, she continues, features two striking young women. "I wanted them to be women of color, I wanted them to be queer, and I wanted them to be the kind of people with whom we'd be really interested in exploring this world," she says. "So you have El, who is a reader, and a writer--they're both sort of dirtbag teens, but she's especially a dirtbag teen. Just being herself, but also has a lot of questions, and is trying to aggressively pursue answers to the various mysteries of the place where they live. Octavia is very cool and analytical, and is interested in certain mysteries, but there are others that she wants to leave behind, because she just wants to get out of town. They have a different energy, and it was important to me to have that conflict. In many ways they're compatible and similar, which makes sense because they're good friends who really love each other, but also there is this tension between them, about what to do about certain elements of the story."
The Low, Low Woods is the first graphic novel Machado has written, and she found that perspective was different in this medium compared to her other work. "In fiction, you tell stories with perspective, but in this, I could have a person talking, and a voice narrating, and a visual perspective. It's way more complicated, but it also creates a lot more space for the tension of horror--visually, it gives you even more stuff to think about."
Working with artist Dani has been "amazing," Machado says. "I can't draw to save my life, so watching her transform my imagination into these physical images has been really, really incredible."
She also has enjoyed working with Joe Hill. "Joe is not only brilliant in writing comics, but also he's a lovely, kind, generous human, who just gives really good writing advice. I've been overjoyed to have him as a part of this process, because he's done a lot for me, and gotten me to think in different ways about what I'm doing. I'm really grateful to him."
Machado is the author of the memoir In the Dream House and the short story collection Her Body and Other Parties. She was a finalist for the National Book Award and winner of the Bard Fiction Prize, the Lambda Literary Award for Literature Fiction, the Lambda Literary Award for LGBTQ Nonfiction, the Brooklyn Public Library Literature Prize, the Shirley Jackson Award, and the National Book Critics' Circle's John Leonard Prize. Her essays, fiction, and criticism have appeared in the New Yorker, the New York Times, Granta, Vogue, This American Life, Harper's Bazaar, Tin House, McSweeney's Quarterly Concern, The Believer, Guernica, Best American Science Fiction & Fantasy, Best American Nonrequired Reading, and elsewhere.

Great Reads
Rediscover: Sam McBratney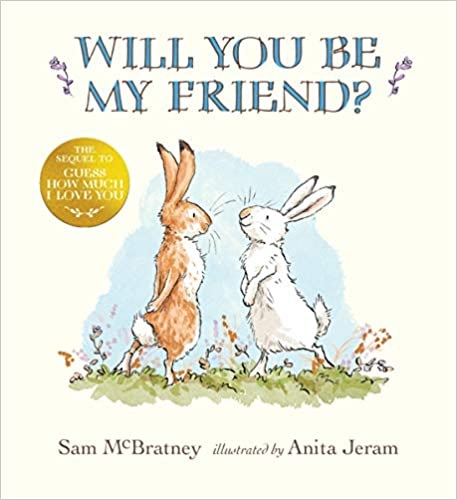 Sam McBratney, author of Guess How Much I Love You, died September 18 at age 77. McBratney wrote more than 50 books, but as Candlewick Press said, "he achieved international acclaim with the 1994 publication of Guess How Much I Love You, which features a spirited yet tender bedtime competition between two nutbrown hares and the now iconic illustrations of Anita Jeram. Now considered a children's book classic, Guess How Much I Love You has sold over 50 million copies worldwide, been translated into 57 languages, and serves as the cornerstone of a global licensing program." It also popularized the phrase "I love you to the moon and back." McBratney himself described it as "a lighthearted little story designed to help a big one and a wee one enjoy the pleasure of being together."
McBratney's companion to Guess How Much I Love You, titled Will You Be My Friend? (Candlewick, $17.99), has a global publishing date of today, September 29. The author had said about the sequel: "When writing about the hares, I aim to describe moments of emotional significance but with loads of humor and the lightest of touches. This story is about one of those moments. Little Nutbrown Hare's world suddenly glows with the discovery of friendship."

Book Reviews
Fiction
Other Press, $16.99, paperback, 304p., 9781892746795
Mystery & Thriller
Gallery/Scout, $27.99, hardcover, 384p., 9781501188817
Science Fiction & Fantasy

Viking, $28, hardcover, 320p., 9780593296523
History
Morrow, $27.99, hardcover, 384p., 9780062970565
Social Science
Sasquatch Books, $18.95, hardcover, 240p., 9781632173133
Pantheon, $25.95, hardcover, 208p., 9781524747169
Psychology & Self-Help
Little, Brown Spark, $27, hardcover, 272p., 9780316536943
Science

Princeton University Press, $27.95, hardcover, 224p., 9780691195254
Art & Photography
Penguin Books, $17, paperback, 288p., 9780143134596
Thames & Hudson, $29.95, hardcover, 256p., 9780500239926
Children's & Young Adult

Houghton Mifflin Harcourt, $17.99, hardcover, 40p., ages 4-7, 9780544774780
University of Minnesota Press, $17.95, hardcover, 32p., ages 3-10, 9781517909505
---