From Pass Books
Recalling the Book Launch Nine Years Ago for "Salvage the Bones"

This week nine years ago, we were honored to host the book launch for our friend Jesmyn Ward's Salvage the Bones. It was released to great acclaim and would eventually win the National Book Award for Fiction for 2011. Our original promotional art for advertising the premiere event at Pass Books is below.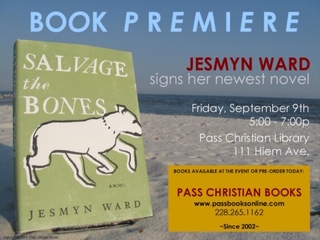 Salvage the Bones is Jesmyn's second novel. Her first is Where the Line Bleeds. Jesmyn's third novel Sing, Unburied, Sing won a second National Book Award for Fiction.
We feature all of Jesmyn Ward's writing at Pass Books/Cat Island Coffeehouse including the nonfiction Men We Reaped: A Memoir, The Fire This Time: A New Generation Speaks About Race and the recently released Navigate Your Stars.
Reading any of Jesmyn's work is an unforgettable and moving experience.

In this Issue...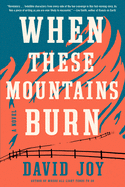 A desperate father tries to save his drug-addicted son one last time in this nerve-wracking thriller.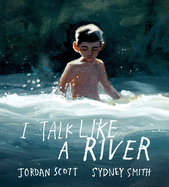 A trip to the river gives a boy who stutters a new way to look at his relationship with words.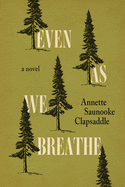 by Annette Saunooke Clapsaddle
A young Cherokee man takes a job at a resort-turned-prisoner-of-war camp during World War II in a debut novel that thrives on an excellent sense of place.
Review by Subjects:
Fiction ⋅ Mystery & Thriller ⋅ Science Fiction & Fantasy ⋅ Romance ⋅ Biography & Memoir ⋅ Social Science ⋅ Sports ⋅ Children's & Young Adult

Book Candy
Top 10 Goddesses in Fiction
E. Foley and B. Coates chose the "top 10 goddesses in fiction" for the Guardian.
---
"How a 1967 poem became the creative inspiration for an agency taking on Big Brother." (via Fast Company)
---
Hillary Kelly shared "the hardest Elena Ferrante lines I've translated" with Vulture.
---
Nina Simone wrote an admiring letter in 1966 to Langston Hughes: "Brother, you've got a fan now!" (via Open Culture)
---
Google recently paid tribute to Alexandre Dumas's The Count of Monte Cristo with a doodle, Mental Floss noted.

Modern Madness: An Owner's Manual
by Terri Cheney
"There are very few things more frustrating than trying to describe the state of your mental health to someone else," writes Terri Cheney in the pages of Modern Madness: An Owner's Manual. "It's amorphous and abstract; it defies pinning down." But she has proven herself a master in doing just that--describing the state of her mental health and pinning down her experiences--in her writing, further evidenced across nearly every page of Modern Madness, her fourth book about living with the "long, inarticulate howl" of mental illness.
Cheney started writing about her experience living with bipolar disorder after "a whole lot of terrible" suicide attempts, encounters with the law, broken relationships and, eventually, a stint in a mental hospital and several rounds of electroshock therapy. "I felt suffocated by all the things that weren't being said," she recalls. "And so, to save myself, I started to write." That writing led to her first memoir, Manic, which went on to become a bestseller and the basis of an episode of Netflix's Modern Love.
In Manic, Cheney "threw away all the clinical stuff." That "stuff" makes a comeback in Modern Madness, as Cheney combines clinical research summaries and accounts of various symptoms and expressions of mental illness with anecdotes and stories about her own lived experience. This combination bridges the potential gap between the "one-size-fits-all approach" of modern medicine and the individual experiences of each person living with a diagnosis of mental illness; by including both the universal and the unique, the studied and the personal, Cheney's book evolves to become more than a layperson's analysis of mental health, and more than a memoir. It is, as the subtitle promises, an "owner's manual," offering readers a guide to living with mental illness.
The framing of Modern Madness as an owner's manual defies simple description or easy genre placement. Like any good primer, it starts with the basics: how mental illness might appear and common symptoms (depression, mania, cycling, suicidality and physical manifestations of all of the above). Cheney then offers "User Precautions," "Instructions for Use" (with great detail about relationships of both the romantic and non-romantic variety) and "Troubleshooting" tips to discern good coping skills from bad. "Maintenance" outlines the role of medication and therapy, and "Warranties" urges readers to create a culture of acceptance when it comes to mental illness. Because it varies greatly from one person to the next--even those with the same diagnosis--Cheney's exploration of the subject is by no means exhaustive or prescriptive, though she does offer practical, actionable advice.
Any book about mental illness--especially when that illness led to so many moments of "terrible," as Cheney recalls--inevitably has moments of darkness, and Modern Madness is no exception. Cheney writes with a raw sense of urgency about the awful narrative inside her head during suicidal episodes, and the manic highs accompanied by extreme "drinking and driving and dating." But alongside those darker moments are stories of hope and humor, some laugh-out-loud funny. In recalling a moment when a case worker in a mental hospital asked her about her gang history, Cheney notes that she responded, "Varsity cheerleader." Cheney pokes fun at the very worn-out advice to "just exercise more!" when depressed (and offers advice on how to support a depressed person in ways that might actually be useful, all of which center on giving the person in question space to talk about their pain and be heard). Let it not be said that talking about mental illness has to be dry; the low moments in Modern Madness make these small moments of humor stand out all the more.
In the introduction, Cheney writes that Modern Madness is for those living with mental health issues themselves, but also "the people who love and sometimes want to strangle them; the health care professionals trying to help; and the millions of other people whose lives are affected by mental illness in one form or another and don't understand what it is, or more important, what the hell to do about it." It's hard to imagine a more expansive--or accurate--audience for this important and timely book. Modern Madness should be required reading for anyone impacted by mental health matters--and, as Cheney says, that's pretty much everyone. --Kerry McHugh
Hachette Go, $27, hardcover, 288p., 9780306846304
---
Terri Cheney: Tells Us Where It Hurts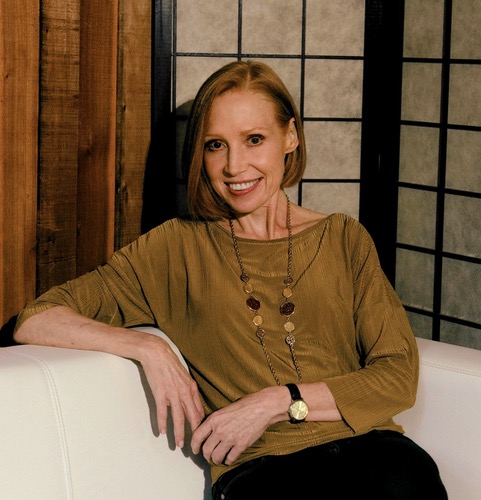 (photo: Tracy Nguyen)
Terri Cheney is the author of the bestseller Manic: A Memoir, which cataloged her life with bipolar disorder; the memoir became the basis for an episode of Modern Love on Netflix. In Modern Madness: An Owner's Manual, she draws on her own lived experience with mental illness to provide insights into the field as a whole. A former entertainment lawyer, Cheney now writes and speaks about mental illness. She lives in Los Angeles.
This is probably the first memoir I've ever read that's structured as an "owner's manual." How did that frame come to you?
I used the term "an owner's manual" as the subtitle because I thought we need to break down the concept of mental illness into something more easily understandable. And we need a vocabulary for these indefinable emotions and experiences that people with mental illness would go through. That was my initial concept. I actually had bought a vacuum cleaner and was trying to figure it all out. And I thought, "Wouldn't it be great if there was an owner's manual for mental health?" That was where the idea came to me.
The framework makes this book as useful to those who are living with a mental illness themselves as for those who love someone diagnosed with a mental illness.
It really did open up my writing because I went beyond myself and my own experiences as I thought about all these other people. Once Manic became a bestseller, I was inundated by stories from other people. And I also ran mental health support groups at UCLA's Neuropsychiatric Institute for 15 years. So I have heard a lot of stories about mental health. And I started thinking about what was universal about it and what topics could I write about that would really touch more people than just those with a diagnosis; for example, relationships and coping strategies. Bigger topics than just my own life and my own struggles.
You've talked about how writing is very therapeutic for you; was writing Modern Madness different from your past writing experiences?
Modern Madness was different from Manic.
Manic was simply writing to save my life. It began in a mental hospital when I was hospitalized at UCLA for severe depression, and I just started writing about the causes and symptoms and trying to make sense of it for my own self, because I didn't know what I was going through. And it took me seven years to eventually realize that I might have a book there.
I've been writing nonstop since then, and I write the aspects of my personal story that I think are most universal. That is how Modern Madness came about.
And it originally had a different title, did it not?
Yes, it was called Tell Me Where It Hurts. Which is still the title for one of the stories in it, one of the essays.
That phrase is sort of a cause for me. People are always asking me, "What can I do?" Their loved one is depressed, or anxious, and they don't know how to help them. They feel inept and incompetent.
And I always say to ask those five words: tell me where it hurts. Then sit back and listen. You will be amazed by how helpful that is. Just eliciting people's feelings can do wonders. Just letting some of that darkness out into the light. You feel heard and not judged. Whereas when you give advice, which is our natural human response, you feel condescended to and judged.
When you are depressed, especially, it is impossible to take advice anyway. It's enough just to move and breathe.
You wrote a little bit about the experience of receiving advice when depressed, saying it's not that you don't know what you need to do, it's an inability to do it. So the advice becomes inherently useless, right?
Correct. When I get really depressed, I suffer from something called psychomotor retardation, where you simply cannot move. Your will and your body are semi-paralyzed. It's terrifying, and it is the worst part of depression for me.
You could come up with the most brilliant elucidation of what I need to do and I would simply look at you and feel like you don't understand. But if you ask me to tell you where it hurts, then I'm able to talk about the pain. It just will lift somewhat. It will help me move. It's the best medicine I know.
And it is not easy. It is hard to listen to a depressed person. They can be very dark and say things that terrify you. It takes a lot of practice, and the heart to do it, and the knowledge that this is what will help.
Modern Madness has moments of darkness, but parts of the book are actually laugh-out-loud funny.
I hear this apology a lot from readers: "I'm sorry I was laughing at your struggles, but it was funny!" But I think it is the greatest compliment ever to hear that.
Mark Twain once said, "Humor equals tragedy plus time." Well, I have had time to sit with the stories I now write about, and I am able to stand back a little and watch them play out. And it truly is absurd that the depth of suffering can border on the absurd, because you know that your emotions are out of whack. You know that you have a mental illness. And this is not exactly how the world really is. But nonetheless, you see things in such an extreme way, and absurdity is extremity.
It speaks a little bit to another theme in the book, that so much of life is contradiction. You can't have the highs without the lows, you can't have that humor without the sadness. One complements the other, even though they seem contradictory.
There was a story I put in the book about looking at a Vermeer painting when I was feeling more recovered and seeing the shadows for the first time, in the work of this great painter of light, seeing how he handles the shadows and realizing he could not have painted the light the way that he did without articulating the shadows. And that really moved me.
If you could leave people with one thought about mental health as a whole, what would you want that to be?
I would say that mental health is universal and is as important and defining as physical health. I think we pay lip service to the notion of parity, but we haven't really reached full acceptance of that yet. And it's time. --Kerry McHugh
---
Shelf vetted, publisher supported.

Great Reads
Rediscover: The Known World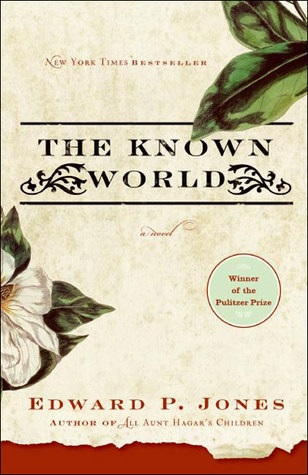 First published in 2003, The Known World by Edward P. Jones takes place in a fictional Virginia county during the antebellum era, where Henry Townsend, a mixed-race farmer and former slave, becomes the unlikely owner of a plantation and its accompanying chattel. When Henry dies, his widow is consumed by grief and slaves begin escaping the Townsend plantation under cover of night. Meanwhile the wider South roils under rumors of slave rebellions and free blacks are sold illegally into slavery--even families of slaves begin to turn against each other. An omniscient narrator weaves these threads into an intricate depiction of the institution of slavery and its destructive impacts on all levels of society. The Known World won the 2004 Pulitzer Prize for Fiction and the International Dublin Literary Award, and was a finalist for the 2003 National Book Award.

Jones is also the author of Lost in the City (1992) and All Aunt Hagar's Children (2006), two interconnected collections of short stories about African Americans in Washington, D.C., where Jones was born and raised. He has also taught creative writing at George Washington University. The Known World is available in paperback from Amistad Press ($16.99), as are his two short story collections. --Tobias Mutter

Book Reviews
Fiction

Fireside Industries, $24.95, hardcover, 240p., 9781950564064
Mystery & Thriller

Putnam, $27, hardcover, 272p., 9780525536888
Poisoned Pen Press, $16.99, paperback, 352p., 9781492664444
Science Fiction & Fantasy
Harper, $27.99, hardcover, 416p., 9780062333131
Romance
Avon, $15.99, paperback, 368p., 9780062990693
Biography & Memoir
Pantheon, $25, hardcover, 240p., 9781524748685
Atria, $27, hardcover, 256p., 9781501199981
Social Science
MIT Press, $29.95, hardcover, 312p., 9780262044370
The New Press, $29.99, hardcover, 384p., 9781620975855
Sports
Algonquin, $27.95, hardcover, 288p., 9781616209087
Children's & Young Adult

Neal Porter Books, $18.99, hardcover, 40p., ages 4-8, 9780823445592
Crown Books for Young Readers, $16.99, hardcover, 160p., ages 10-up, 9780593121610
Charlesbridge, $16.99, hardcover, 40p., ages 3-7, 9781623541200
---