From Pass Books
Signed Copies of "Everything Beautiful In Its Time" by Jenna Bush Hager At Pass Books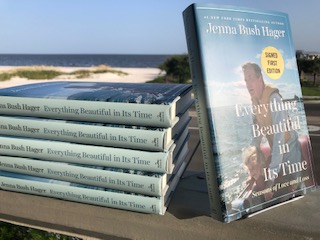 Jenna Bush Hager was kind enough to sign and send copies of Everything Beautiful In Its Time, available at Pass Books/Cat Island Coffeehouse. Originally, we had hoped to have her visit in person, but that is not possible at the moment.
Jenna Bush Hager, the former first daughter and granddaughter, #1 New York Times bestselling author, and coanchor of the Today show, shares moving, funny stories about her beloved grandparents and the wisdom they passed on that has shaped her life.
To the world, George and Barbara Bush were America's powerful president and influ­ential first lady. To Jenna Bush Hager, they were her beloved Gampy and Ganny, who taught her about respect, humility, kindness, and living a life of passion and meaning—timeless lessons that continue to guide her.
Now the mother of three young children, Jenna pays homage to her grandparents in this collection of heartwarming, intimate personal essays. Filled with love, laughter, and unforgettable stories, Everything Beautiful in Its Time captures the joyous and bittersweet nature of life itself. Jenna reflects on the single year in which she and her family lost Barbara and George H. W. Bush, and Jenna Welch. With the light, self-deprecating charm of the bestselling Sisters First—cowritten with her twin sister, Barbara—Jenna reveals how they navigated this difficult period with grace, faith, and nostalgic humor, uplifted by their grandparents' sage advice and incomparable spirits.
In this moving book, Jenna remembers the past, cherishes the present, and prepares for the future—providing a wealth of anecdotes and lessons for her own children and all of us. Poignant and humorous, intimate and sincere, Everything Beautiful in Its Time is a warm and wonderful celebration of the enduring power of family and an exploration of the things that truly matter most.

In this Issue...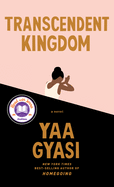 In this superbly nuanced novel, a young neuroscientist reflects on her upbringing--her parents' immigration, her brother's addiction and her early religiosity.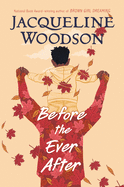 In this heartbreaking free-verse novel for middle schoolers, a 12-year-old describes his NFLer dad's decline due to head injuries sustained on the football field.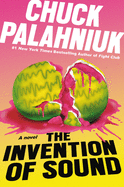 With its ability to convert underlying exploitative systems into all-too-visible fears, The Invention of Sound is ideal for the unflinching but thoughtful horror fan.
Review by Subjects:
Fiction ⋅ Mystery & Thriller ⋅ History ⋅ Nature & Environment ⋅ Education ⋅ Children's & Young Adult

Book Candy
Secrets of Book First Drafts
The "surprising secrets of writers' first book drafts" were explored by the BBC.
---
"When children read on the roof": The New York Public Library took "a look back at NYPL's rooftop reading rooms."
---
Merriam-Webster looked up the word "pod: a collective noun for students."
---
"Can you pick the correct prepositions to complete these video game titles?" Mental Floss challenged.
---
"Explore an interactive, online version of the beautifully illustrated, 200-year-old British & exotic mineralogy," Open Culture invited.

The Barren Grounds: The Misewa Saga, Book 1
by David A. Robertson
David A. Robertson, a citizen of the Norway House Cree Nation, has written picture books, adult graphic novels and a YA trilogy. He wanted to write a "Narnia-inspired middle-grade fantasy series that would draw on traditional stories of the sky and the constellations." The Barren Grounds is that clever, affecting fantasy adventure. The first in a planned trilogy, The Barren Grounds offers young readers a heroic quest styled like those found in Susan Cooper's The Dark Is Rising series, Brian Jacques's Redwall series and, of course, the Chronicles of Narnia.
Morgan is having difficulty bonding with her Cree foster sibling. Twelve-year-old Eli is quiet and small for his age and spends most of his time sketching in an oversized drawing pad. It's not his sober personality that Morgan finds distancing, though. Indigenous herself, Morgan was put into foster care at such a young age she has almost no memories of her family. Eli is new to the foster care system and has a strong connection with his heritage--he even still speaks the Swampy Cree dialect of his community. Additionally, Morgan's many years in foster care have left her untrusting and angry. Her new foster parents, Katie and James, are white and seemingly well-meaning, but their every misstep leaves Morgan furious. So Morgan acts out and, at 13, she knows what happens to problem foster kids--they get sent to new homes. She's angry, she's terrified and she feels obligated to watch out for Eli, who reminds her of herself when she was younger: "At a new house, before new houses became a part of her life."
After a particularly intense day in which Morgan blows up at Katie and James for buying her a pair of "Manitobah Mukluks" as a celebratory gift for her two-month anniversary in their home, Morgan invites Eli to join her in her secret hiding place (a corner of the unfinished attic). As Eli settles in, Morgan discovers that she likes this spot being "no longer a place just for her"--she hopes she's making Eli feel a little bit less alone and scared. While Eli sketches, Morgan feels a cool wind and sees in his drawing a strangely familiar winterscape with an "animal being" walking away from a village. Eli explains to her that the animal is a fisher, something he used to see when hunting back home. Morgan thinks there's something creepy about the animal: it feels as if "the creature's black eyes [are] watching" her. And when they hang the completed picture on the wall, "the blizzard in the drawing, once just pencil lines, storm[s] into the attic room." The illustration now serves as a portal to another world.
Through the portal is the Barren Grounds, where Ochek, the fisher, finds the children and brings them back to "the only surviving village in the North Country," Misewa (Cree for "all that is"). Ochek tells the children that his world is dying. A human man was taken in by the sentient, upright-walking animals of the world but he grew greedy. He convinced Tahtakiw (Crane) to run away with him and take all the "summer birds" along. Without the summer birds, there is no Green Time. So now, in this endless White Time, the animal beings of Misewa are slowly starving. Eli persuades Morgan to join him, Ochek and new friend Arikwachas (Arik for short) the squirrel on a journey to find the man and bring the summer birds back to the North Country.
Robertson populates his world with creatures and ideas from Indigenous stories of the stars. The fisher--Ochek himself, the children's first connection to Misewa and their guide--is the same constellation that many know as the Big Dipper. In the Northern Hemisphere, the Big Dipper can be seen at any time of year and, throughout the book, a Fisher constellation marks the end of each section. The Chief of Ochek's tribe, Muskwa (Bear), is akin to the constellation Mista Muskwa, who sits atop the Big Dipper. And Tahtakiw is a summer constellation--the Crane can be seen only from June to December. Quite simply: no Crane, no summer.
Robertson's significant talent is on display in The Barren Grounds as he weaves together European fantasy tropes, Indigenous stories of the constellations and issues both contemporary and deeply personal. Morgan's connection to her past is tenuous; she longs for a home but rejects James and Katie's attempts to give her one. Eli, meanwhile, mourns the loss of his family, community and culture and finds in Misewa and Ochek his first language and old way of life. Morgan, to her surprise, finds pieces of herself in Misewa, too.
Like C.S. Lewis with his Chronicles of Narnia, Robertson lives in the world of allegory in The Barren Grounds. While Robertson's work features no Christ figure, it does clearly have a white man who takes too much from the land and its Indigenous people, and then betrays them, erasing their myths and leaving them to die. It's the kind of excellently portrayed good and evil fight one sees in "classic" fantasy: good must win, of course, but at what cost? And there is something deliciously canny about Robertson's use of European fantasy tropes to give voice to an Indigenous story, especially since so many Indigenous stories have been silenced by European influence.
The Barren Grounds is a middle-grade fantasy with real stakes and true emotions. It's a journey that allows for both readers and characters to grow from start to finish. And, while this particular adventure wraps up cleanly, readers will be happy to know there are more stories set in the world of Misewa to come. --Siân Gaetano, children's and YA editor, Shelf Awareness
Puffin Books, $17.99, hardcover, 256p., ages 10-up, 9780735266100
---
David A. Robertson: Translating Knowledge from One Worldview to Another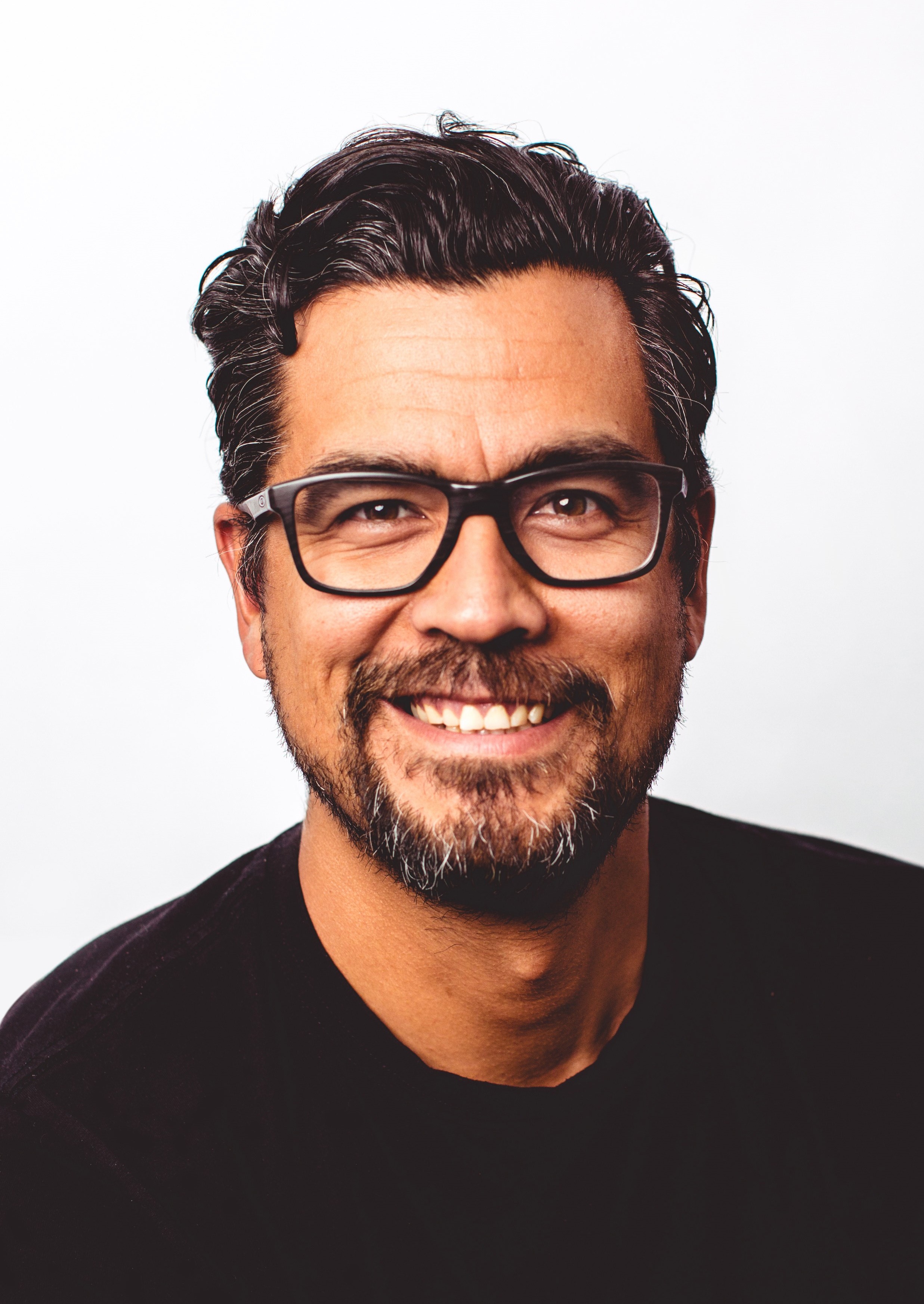 (photo: Amber Green)
David A. Robertson is the author of many books for young readers including When We Were Alone, which won the 2017 Governor General's Literary Award and was nominated for the TD Canadian Children's Literature Award. Strangers, the first book in his young adult Reckoner trilogy, won the 2018 Michael Van Rooy Award for Genre Fiction (Manitoba Book Awards). A speaker and educator, Robertson is a member of the Norway House Cree Nation and lives in Winnipeg. He spoke with Shelf Awareness about The Barren Grounds (Puffin Canada, September 8, 2020), the first of a middle-grade fantasy series.
The very first thing that jumped out to me about The Barren Grounds is that Morgan likes "how books used to be written." I took note of the stories that were mentioned: The Wizard of Oz, Alice's Adventures in Wonderland.... How did books used to be written? Did you aim to write a book like them?
Some of the writing I've done has been influenced by more classic literature. Even my first adult novel, The Evolution of Alice, was written while I was reading the J.D. Salinger collection Nine Stories and In Our Time by Ernest Hemingway. I feel like stories took more time to be told; there wasn't the rush there can be today. And I loved the language, the approach to character, the description and the imagination. I definitely aimed to write a book like those works you mentioned. Trying to honor those books while, at the same time, writing something that felt completely unique. So, I think there's old-school elements to my book, but there's a sense, too, that you haven't read something like it before.
Your biggest influence for this title was The Lion, the Witch, and the Wardrobe. What made you want to write something akin to an Indigenous Narnia?
Narnia was a huge influence on me. I re-read most of the series before starting in on The Barren Grounds. I wanted to remember how Lewis wrote his books, the world he imagined, the elements I loved and the way in which he approached a subject that was near to his heart while not letting that subject take away from the story itself. I think you could say that The Lion, the Witch, and the Wardrobe was overtly Christian, but you could also say that it was a unique and wonderful story that imagined a world readers had never visited before. I wanted that to be true of my book. And while we have this amazing history of oral storytelling, we have our own classic stories. I wanted to write some of our stories in a classic form--to reach new readers with the subjects that I wanted to approach and hopefully have them influence readers in a positive way. So this book adapts Cree legends, and addresses the foster-care system and land protection, while also telling an engaging and unique fantasy story.
Tell me about building your two young protagonists. What made you choose to place your characters in the foster-care system? Did you always want one to be far removed from her heritage and the other tied more closely to his roots?
So, the first part of that. I've always wanted to tell a story that encourages discussions around the foster-care system. Hopefully, in this story, kids and adults can talk about the foster-care system and how it may impact an Indigenous child who has been removed from their family, their community. There are comparisons to the residential school system, but you also have these foster parents who are well-intentioned. Still, they struggle. So, why do they struggle? How do the kids struggle? What are some of the things they both do to help overcome those struggles? How can that conflict and resolution help us understand reality? The second part is looking at how that removal, acutely, may impact a young Indigenous kid. They've lived their life one way, and now they have to learn to live in another way. You have Morgan, who's been removed for so long that she's forgotten herself: her mother, her community, her way of living, her identity. Because of that, she's angry, confused, lost. Now look at the transformation she undergoes when finding a place that reconnects her with so much of what has been lost. While she still has a long way to go in her journey, the change in her is powerful. It's also this interesting reversal of roles, where Eli is the child, Morgan is like a mentor. Then, on the land, Eli seems wiser, older. Morgan has to learn from him. I liked that.
A part I loved was when Morgan and Eli were invited to sit down with the Council members, all of whom are large, talking animals who speak Cree. Morgan speaks only English and so it is said simply that, "This human... doesn't speak." Would you please expand on this?
Well, there is a world of difference between the English language and Cree (or another Indigenous language, take your pick). To say that Morgan doesn't speak is saying that she can't understand the world as they understand it. She can't translate what she knows into their way of knowing. At least not yet. My dad told me once that, when he had to learn English after only speaking Cree, he had to almost abandon one for the other because they were so different, and he was given no guidance of how to translate knowledge from one worldview to the other. So, she sees the world different from them, and they recognize that. But they also respect each other and make allowances for that disconnect. There's a nice little moment late in the book where she makes her own translation from Cree into English, and it's a small way to show how she is growing as a character.
Is there anything else you'd like to tell readers? Anything you specifically hope children will take from The Barren Grounds?
I hope that they, first and foremost, become engrossed with the world that lives within The Barren Grounds. The world and the characters. And if that happens, a lot of what I've talked about here will just happen organically. They'll learn about Cree legends, they'll learn about the foster-care system, they'll learn about respect for the land. So, that's my main hope. My second is that they question. Always question, because it helps us understand ourselves, each other and the world we've been gifted with. I hope, as well, that they know there is more coming for Morgan, Eli and the creatures in Misewa. I'm very excited to bring all the readers along on this journey. --Siân Gaetano, children's and YA editor, Shelf Awareness
---
Shelf vetted, publisher supported.

Great Reads
Rediscover: David Graeber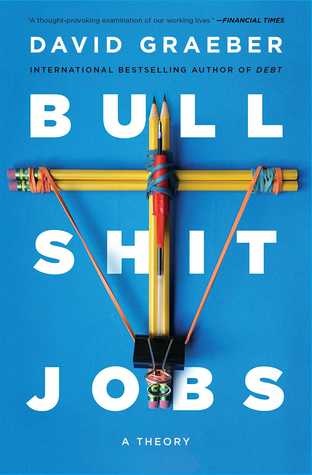 David Graeber, "the radical anthropologist, provocative critic of economic and social inequality and self-proclaimed anarchist who was a coiner of 'We Are the 99 Percent,' the slogan of the Occupy Wall Street movement," died on September 2 at age 59, the New York Times reported. He was a prolific author and "captivated a cult following that grew globally over the past decade with each book he published," the Times wrote. Those books included Debt: The First 5000 Years (2011), The Democracy Project: A History, a Crisis, a Movement (2013) and The Utopia of Rules (2015). He was also a professor at the London School of Economics.
In Bullshit Jobs: A Theory (Simon & Schuster, 2018), Graeber criticized how advances in technology had not led to shorter work weeks and more meaningful work. "In technological terms, we are quite capable of this," he wrote. "And yet it didn't happen. Instead, technology has been marshaled, if anything, to figure out ways to make us all work more. Huge swaths of people, in Europe and North America in particular, spend their entire working lives performing tasks they believe to be unnecessary. The moral and spiritual damage that comes from this situation is profound. It is a scar across our collective soul." In fall 2021, Farrar, Straus & Giroux will publish The Dawn of Everything: A New History of Humanity, written with David Wengrow.

Book Reviews
Fiction

Knopf, $27.95, hardcover, 288p., 9780525658184

Grand Central, $27, hardcover, 240p., 9781538718001
W.W. Norton, $25.95, hardcover, 224p., 9781324005469
Atria, $28, hardcover, 352p., 9781501160837
Pantheon Books, $27.95, hardcover, 368p., 9781101871881
Two Lines Press, $19.95, hardcover, 9781931883917
Mystery & Thriller
Mira, $17.99, paperback, 368p., 9780778361046
History
Hanover Square Press, $28.99, hardcover, 352p., 9781335005540
Nature & Environment
Milkweed, $25, hardcover, 184p., 9781571313652
Education
Harper, $24.99, hardcover, 224p., 9780063001923
Children's & Young Adult

Nancy Paulsen/Penguin, $17.99, hardcover, 176p., ages 10-up, 9780399545436
Abrams, $16.99, hardcover, 40p., ages 5-9, 9781419746772
---