From the Shelf
Cultural Literacy and Citizenship
As we approach a new academic year and a presidential election under the shadow of a global pandemic, it's worth considering whether schools are imparting the lessons in civics, history, ethics and tradition that children need to develop into informed voters, part of a culturally literate society.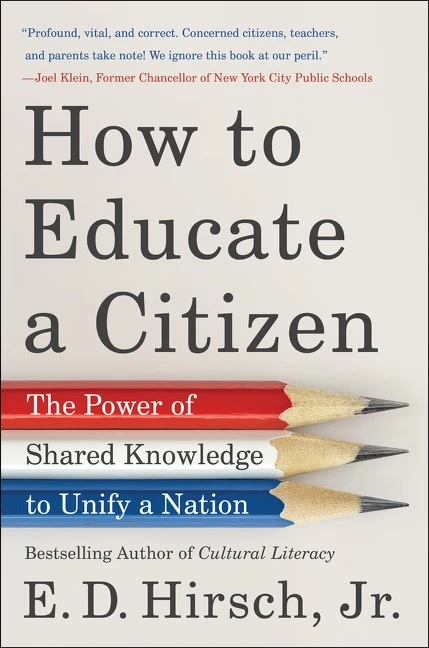 The educator E.D. Hirsch, Jr. thinks not, as his soon-to-be published manifesto, How to Educate a Citizen: The Power of Shared Knowledge to Unite a Nation (Harper, $24.99), makes clear. Hirsch has dedicated his career to promoting curricula rich in core knowledge subjects such as civics and history. At a time when 71% of Americans think Alexander Hamilton was a U.S. president, it seems especially urgent that schools recommit to the important work of "citizen-making" that Hirsch insists is a basic function of our educational institutions.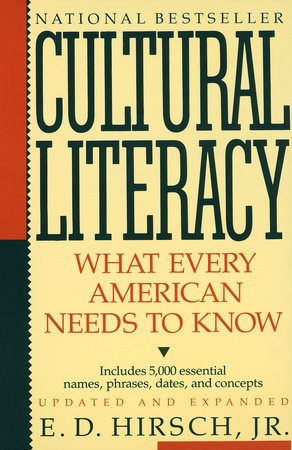 Hirsch coined the term "cultural literacy" in the '80s to describe the essential information each American should be familiar with in order to thrive in the modern world. Cultural Literacy: What Every American Needs to Know (Vintage, $16.99) was criticized for its focus on "dead white males," but it is nevertheless a helpful starting point for anyone interested in brushing up on key cultural and historic facts.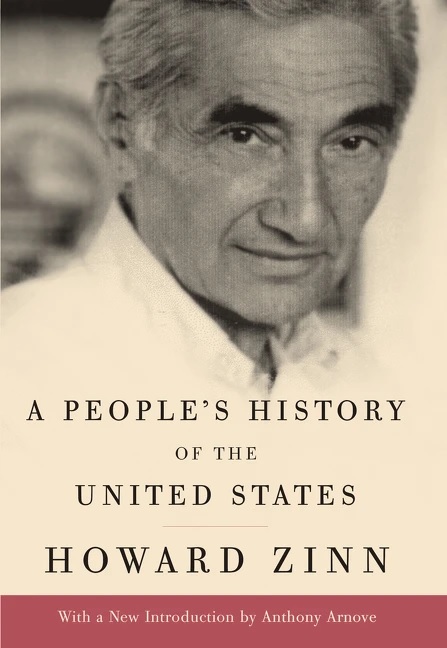 For a perspective on U.S. history that differs from the "dead white male" version, I recommend A People's History of the United States (Harper Perennial Modern Classics, $26.99) by Howard Zinn, a classic (originally published in 1980) that recounts history through the experiences of natives, slaves, immigrants and factory workers whose blood, sweat, tears and sacrifices built America. Zinn's A Young People's History of the United States: Columbus to the War on Terror (Triangle Square, $22.95) is a good entry point for parents seeking to equip their children with the intellectual tools necessary to participate in the civic life of our multiethnic nation. --Shahina Piyarali, writer and reviewer

In this Issue...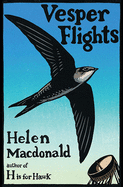 Helen Macdonald's dazzling essay collection showcases her wonder, deep love and respect for nature.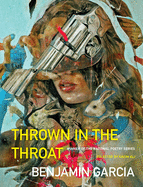 This lyrically stunning poetry collection champions queer desire while addressing inherently violent language toward BIPOC, especially those in the LGBTQ community.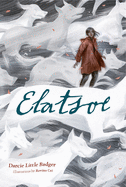 A Lipan Apache teen with the ability to raise ghosts travels across Texas to bring the man who killed her cousin to justice.
Review by Subjects:
Fiction ⋅ Mystery & Thriller ⋅ Biography & Memoir ⋅ Social Science ⋅ Nature & Environment ⋅ Poetry ⋅ Children's & Young Adult

Book Candy
Quiz: What Did These Words Originally Mean?
Merriam-Webster posed an original meanings quiz "for the pedantic and those annoyed by them!"
---
Video: "Golden Retriever puppies enjoying story time from a dragon."
---
"Get excited for the Tour de France with these reads, the New York Public Library suggested.
---
Open Culture featured "25 animations of great literary works."
---
Bookshelf checked out the "Story Station."

Great Reads
Rediscover: Shirley Ann Grau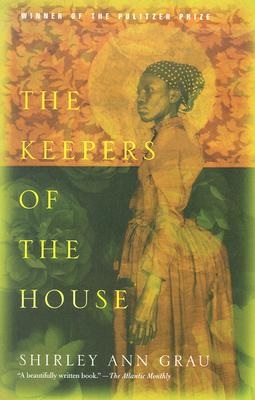 Shirley Ann Grau, a Southern writer whose novels "explored themes of race, power, class and love," died on August 3 at age 91, the New York Times reported. Grau was best known for her 1964 novel The Keepers of the House. Set in the Deep South, the book features a decades-long relationship between a wealthy white widower and his Black housekeeper. They marry in secret, and their descendants must face the repercussions when the family secret is eventually exposed. The book won the Pulitzer Prize for Fiction in 1965, and when the Pulitzer representative called to tell Grau the news, she assumed it was a prank and hung up. Published in the midst of the civil rights movement, the novel drew the ire of white supremacists for its depiction of interracial marriage. In an episode that Grau would later describe as having a "Groucho Marx ending to it," a group of klansmen attempted to burn a cross on her lawn. She was not even home at the time, and as the group forgot to bring a shovel, they had to lay the cross on the ground. As a result, it did not light properly and sputtered out after burning some grass.

In addition to The Keepers of the House, Grau wrote five other novels and four short story collections. Her debut collection, The Black Prince and Other Stories, was published in 1955 and was a finalist for the National Book Award. Her last novel was Roadwalkers, published in 1994, and her final short story collection, Selected Stories, was released in 2006. The Keepers of the House is available from Vintage ($16.95).

The Writer's Life
Shannon Hale: Limitless Potential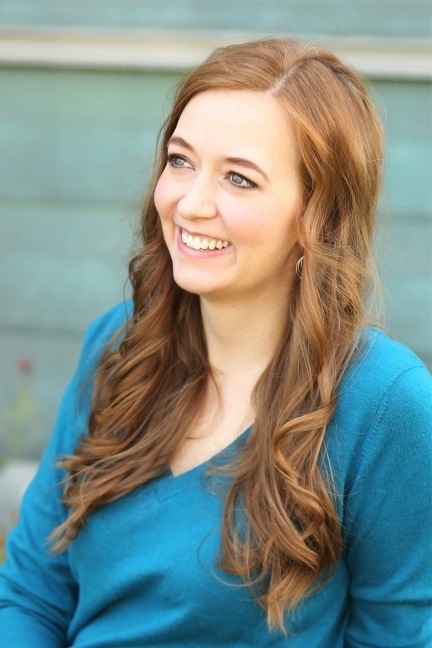 photo: Jenn Florence
Shannon Hale is the author of more than 30 books, including the fantasy novels The Goose Girl and Book of a Thousand Days; the SF novel Dangerous; Newbery Honor winner Princess Academy; the graphic novel memoirs Real Friends and Best Friends with LeUyen Pham; and the romantic comedy Austenland, now a movie. She lives in Utah with her husband and frequent collaborator Dean Hale, their four children and two cats, Misty Knight and Mike Hat. We recently caught up with Hale to discuss the power of mean girls, peaking in high school and her new YA novel, Kind of a Big Deal (Roaring Brook Press, reviewed below).
The chapters that Josie spends in book worlds play with various genres. Would you call your approach lampoon or homage? How did you decide which genres to represent, and how did you get to be so dang funny?
The brief, honest answer is: so, so many revisions. In my experience, comedy writing is harder and takes way more time. Like in Austenland, when I write comedies, I'm always trying to find the balance of laughing at the thing while loving the thing. It's the only kind of humor I enjoy. I despise insult, putdown comedy. I wouldn't dare to either lampoon or pay homage to any genre that I didn't also adore. I had particular fun coming up with the book titles for the literary fiction classics that the nannies' book club reads, strongly inspired by the most depressing college course I ever took: The 20th Century French Novel.
If you had to be trapped in a story forever, which would you choose? Personally, I want to pick Lord of the Rings, but I'm put off by the lack of flush toilets.
I love the U.K. and magic, but also I love modern plumbing, so it's hard to beat Harry Potter. I would just want to make sure any Harry Potter story I entered is also freely inhabited by all women, including transgender women. As much as I love Austen, I'm afraid the truth of that era would feel repressive for a woman, and again, no plumbing. Is there a book about our world but with an alternate timeline where everything isn't so horrible? I could use a little less drama and a whole lot more justice, peace and equality.
In your acknowledgements, you mention that this story is a labor of multiple drafts and years. Could you tell us more about its development?
It's that age-old story of a naive, younger writer thinking, "Here's a light, funny idea for a romp of a tale that shouldn't be too hard to write!" and seven years later, cursing herself and her offspring for generations to come. The most common question I get from readers is, "Where do your ideas come from?" but ideas are the least strenuous part of storytelling. It's all in the execution. It took writing this idea first as a screenplay, then as a novel about a young mother and finally, dozens and dozens of revisions later, finding Josie and her specific 18-year-old-high-school-dropout story, for it to finally work. It ended up as a New Adult Musical Comedy Contemporary Romance Fantasy Novel with a Graphic Novel Section, which makes it so easy to shelve, right, booksellers and librarians? Practically shelves itself? You're welcome.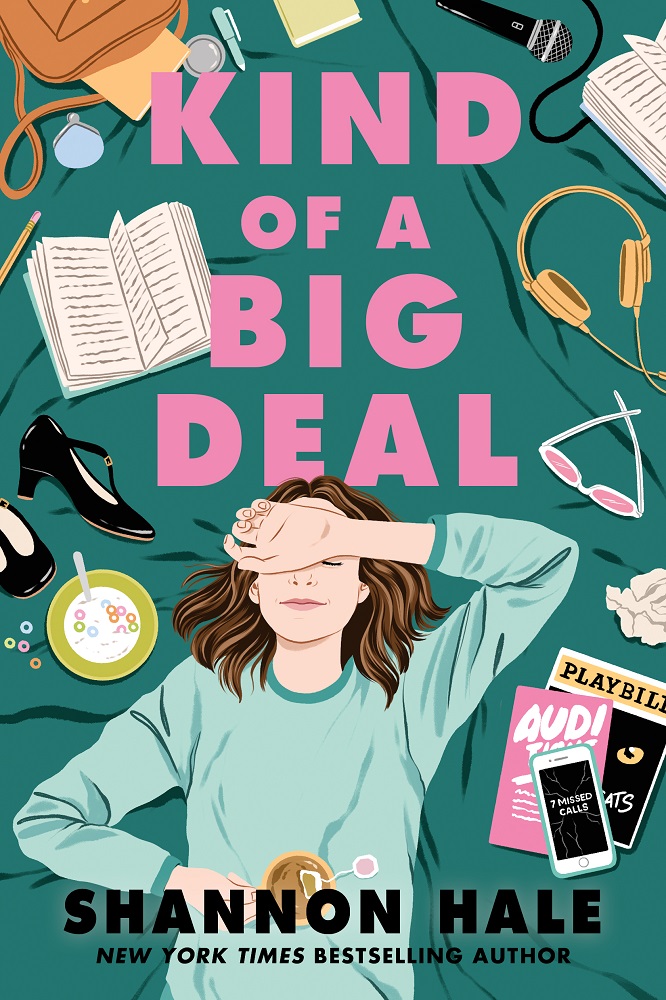 What can you tell us about the illustrated section?
In an earlier draft, Josie only enters three stories. Once I sold the manuscript to Connie Hsu at Macmillan/Roaring Brook Press, she said, "How about she goes into even more genres?" which is the best note to give me ever. Connie also suggested, "How about a graphic novel?"
I said, "Could we do that?!"
She totally editor-power-flexed and said, "Yes, we freakin' can." For an artist, I immediately thought of Samantha Richardson, my good friend of 30-plus years. She had been a beta reader for me in an earlier draft to help me keep a transgender character authentic, and she's a skilled comics artist. I'm so excited that this book is her first publication, one of hopefully many more to come.
Your heroine's stage name, Josie Pie, is a hat-tip to Josie Pye from Anne of Green Gables. Does this character have a special significance for you?
Anne Shirley is a precious character to me. Hi, redhead here with an inferiority complex or two. At one point, Anne of Green Gables was going to be the book my Josie Pie went into as her final live-your-fantasy.
As a young reader, I freely hated "mean girl" characters like Anne's Josie Pye, but as an adult, I feel for them. Mean girls have a healthy dose of social power but aren't mature enough to know how to use it in a healthy way. I don't mean to defend bullies. I'm tired of the "deep down, bullies are more miserable than--" blah blah. However, I am intrigued by girls with power, and I want to root for them.
You've written in multiple genres and for different age groups. What pushes you to constantly stretch your creativity in new ways?
Instability, maybe? I've done picture books, early chapter books, middle grade novels, young adult novels, adult novels, screenplays and graphic novels. And genres: fairy tales, fantasy, murder mystery, science fiction, comedy, tragedy, romance, realism, superhero and memoir... I think it reflects what kinds of books I like to read--all! It also reflects my fear of boredom and a need to constantly challenge myself for fear I'll stop growing.
Did you draw on your own acting career to help inform Josie's experiences?
Yes, and so joyfully! Besides books, theater was my safe, happy space and friendship-generator in junior high through college. Unlike Josie, I'm not a singer and was never, ever a big deal, but I did dozens of school and community theater plays and improv comedy. My final part was as Poppy in Noises Off! at the Missoula Children's Theater. It's been 20 years since I stepped onto a stage as anyone but myself, but my decades-old best friends are still the people I met in theater. Theater people are loving and so accepting.
Josie's biggest fear--aside from her mom finding out about her debt, of course--is that she peaked in high school. How did you, a successful artist, channel her feelings? What would you say to a young adult who felt their best years were already behind them?
At any given moment, it's probably been less than a month since I've declared, in profound sincerity, "I'm washed up! I've lost it! I'll never write anything good again!" Like clockwork, the creative arts force us into humility, so drawing on those feelings isn't hard for me. I also get that fear that we must be constantly "better" than the year before or we've failed, but I think it's a fallacy. I like Nina's advice to Josie in the book: "We are who we used to be, who we are now, and who we will become. Even if we can't see it, we are never-ending, eternal, with limitless potential." --Jaclyn Fulwood, youth services manager at Main Branch, Dayton Metro Library

Book Reviews
Fiction
Atria, $27, hardcover, 384p., 9781982137038
Unnamed Press, $18, paperback, 144p., 9781951213121
Mystery & Thriller
Morrow, $16.99, paperback, 432p., 9780062978493
Forge, $26.99, hardcover, 320p., 9781250191342
Biography & Memoir
HarperOne, $25.99, hardcover, 256p., 9780062936790
Social Science
Bloomsbury, $28, hardcover, 256p., 9781635573138
Crown, $27, hardcover, 288p., 9781984826558
Nature & Environment

Grove Press, $27, hardcover, 288p., 9780802128812
Chelsea Green, $17.95, paperback, 256p., 9781603588652
Poetry

Milkweed Editions, $16, paperback, 80p., 9781571315212
Children's & Young Adult

Levine Querido, $18.99, hardcover, 368p., ages 12-up, 9781646140053
Roaring Brook Press, $18.99, hardcover, 400p., ages 12-up, 9781250206237
---