From the Shelf
Earth Day Turns 50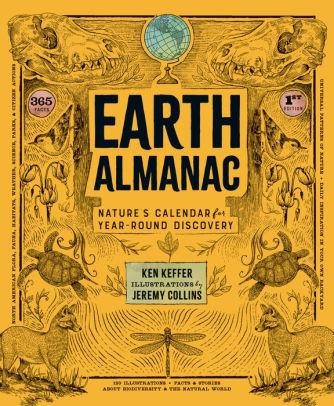 Many of us will be spending Earth Day at home for the first time in years. April 22, 2020, marks the 50th anniversary of the event, the brainchild of Gaylord Nelson, U.S. senator from Wisconsin, who was moved to start a "national teach-in on the environment" after he witnessed the devastation of a 1969 oil spill in Santa Barbara, Calif.
Thanks to Earth Almanac: Nature's Calendar for Year-Round Discovery by Ken Keffer, illustrated by Jeremy Collins (Skipstone Press, $24.95), readers young and old can celebrate the great outdoors all year long. Keffer, a naturalist and educator, begins with the winter solstice, December 21, noting, "the darkest days of winter are now officially in the past." He then explains why it's the shortest day (in the Northern Hemisphere) and organizes the book around the seasons. Jeremy Collins's pen-and-ink illustrations with watercolor wash simulate a field guide, as he sketches a pair of horned owls in the act of squatting in another bird's nest, a spotted skunk just after it's unleashed its spray (Keffer explains it takes 10 days for a skunk to "restock the spray supplies" and suggests a shampoo for pets that's more effective than tomato baths), even a dinosaur track!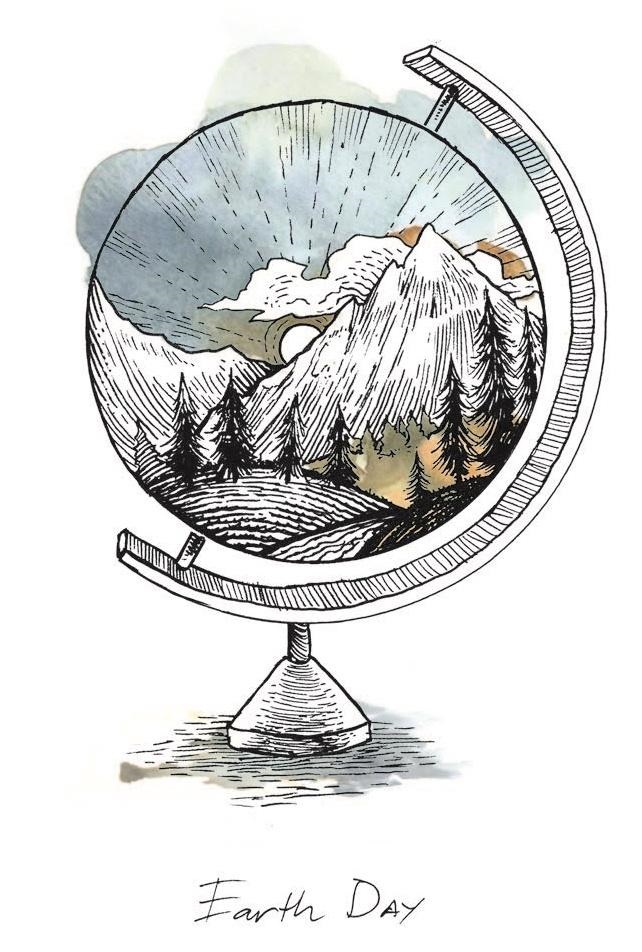 Readers may read the day's entry, dip in and out, or power straight through, searching for family activities, such as putting out a feeder or fruit to attract butterflies and using a white sheet to enhance moth-watching. Keffer covers a wide range of the sciences, from botany to astronomy, dots the pages with humor ("Were there ever any flamingos... in Flamingo, Florida?"--and goes on to give the sobering answer), as well as surprises: Did you know that beluga whales molt (as do orcas and bowhead whales)? A handy index highlights entries that tie in with "Citizen Science Opportunities," as well as specific animals, flora and fauna. --Jennifer M. Brown, senior editor, Shelf Awareness

In this Issue...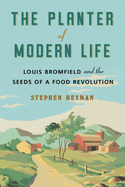 This biography convincingly argues that forgotten novelist Louis Bromfield is worthy of reappraisal--not for his writing but for his heroic conservation efforts.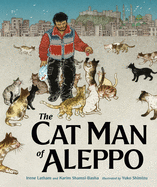 by Irene Latham , Karim Shamsi-Basha
A humble hero makes an extraordinary difference in war-torn Syria when he attempts to take care of all the city's orphaned cats.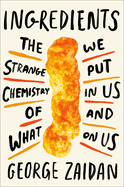 A popular scientist offers perspective on whether sunscreen prevents skin cancer and explores dietary dilemmas with wit and brevity.
Review by Subjects:
Mystery & Thriller ⋅ Science Fiction & Fantasy ⋅ Biography & Memoir ⋅ Essays & Criticism ⋅ Science ⋅ Nature & Environment ⋅ Sports ⋅ Children's & Young Adult

Book Candy
Laughter in Dark Times: Some Unexpectedly Funny Books
"Laughter in dark times." Geoff Dyer suggested "funny books you may not have read" for the Guardian.
---
Lit Hub explored "brief history of books that do not exist."
---
"Escape into these fantastical, imaginary maps," Atlas Obscura advised.
---
Russia Beyond highlighted the "top 10 Western authors much beloved by Russians."
---
"Where the Magic Happens." Variety invited readers "inside writers' homes."
---
The Bibliotheca Alexandrina will provide live tours online, according to Egypt Independent.

Great Reads
Rediscover: The Little Engine That Could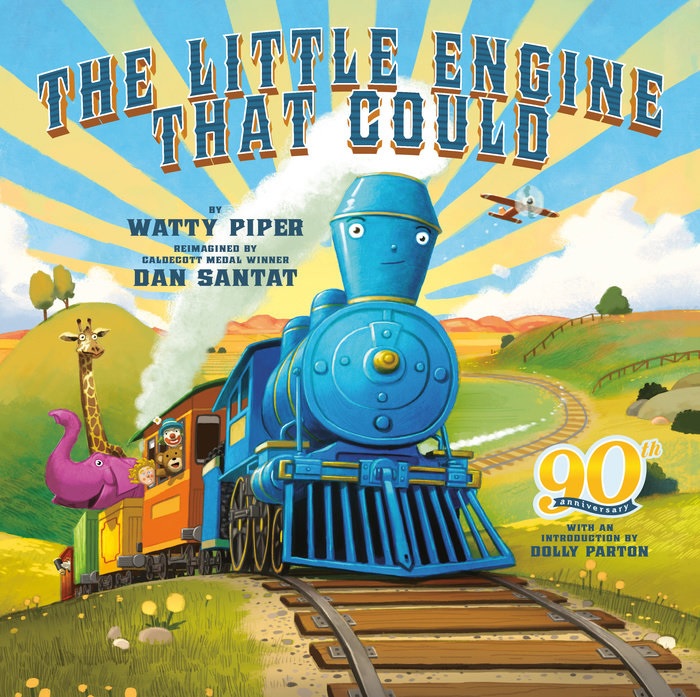 The mantra "I think I can" has inspired young readers and adults for generations. Elements of
The Little Engine That Could
appeared in children's tales as early as the turn of the 20th century. It wasn't until 1930, however, that Arnold Munk, co-owner of publisher Platt & Munk, released something close to the modern version under the pen name Watty Piper. Many new editions have appeared since. In 1954, Lois Lenski's original illustrations were replaced by art from George and Doris Hauman, which Ruth Sanderson's work supplanted in a 1976 update. The story itself has also been altered. Later editions filled the titular Little Engine's train with toys for children on the other side of the mountain, gave identities to the unhelpful other locomotives and added a clown ringleader.
On April 7,
The Little Engine That Could
canon expanded again with a 90th-anniversary edition featuring new art from Caldecott-winning author/illustrator Dan Santat and an introduction by Dolly Parton. Parton read
The Little Engine That Could
in the first episode of her "
Goodnight with Dolly
" read-aloud series. The anniversary edition is available from Grosset & Dunlap ($18.99, 9780593094396). --
Tobias Mutter

The Writer's Life
Valerie Trouet: The Tales Trees Tell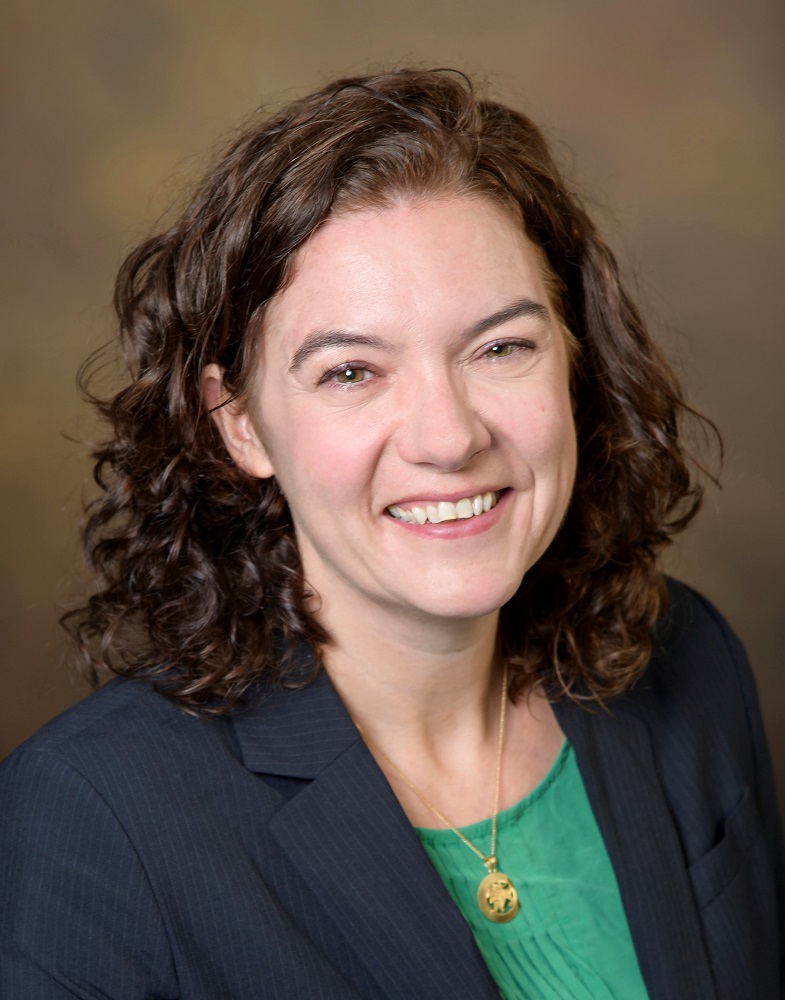 photo: Kris Henning
Readers may be new to the term dendrochronology, but thanks to Valerie Trouet, they'll never forget it. Her first book, Tree Story, comes out today (Johns Hopkins Univ. Press, $27; reviewed below), timed to coincide with the 50th anniversary of Earth Day. An associate professor at the University of Arizona's Laboratory of Tree-Ring Research, Belgian-born Trouet explains not only the science behind tree rings, but also what trees can tell us, in her words, about "the complex interactions between forests, humans, and climate."
How did you come to consider a profession as a scientist?
My dad was a professor of pharmacology, the development of medicine. Growing up, I got a glimpse of what being an academic and scientist would be like. He would bring part of his research home and talk about it. You know when you're a kid and you ask your parents for scratch paper to draw on? His would be full of chemical formulas.
I'm the youngest of three girls. In our house, it wasn't like "science is for boys." It never occurred to me that science wasn't a career for women. We were encouraged to do well academically; I did well in languages as well as science. My mother tongue is Dutch, my second language is French. English is my third language. Having lived in the U.S. for nine years, my English is better than my French.
As you describe your fieldwork, you are often the only woman on these excursions. What is that like for you?
At the time, it never occurred to me it was odd. It's just how things were. I've also done field work when women were present. There were fewer women--that's how it is when women are in the minority, in every aspect you're practically the only woman. Until I wrote this book, it never occurred to me that that was an odd thing.
The title of your book takes on a double meaning: just as each tree tells a story, your involvement with them has also become your story.
I originally wanted the title to be one word, like History: Treestory. They were worried it would be confusing, even how to pronounce it. In the end we went with two words. Even on the cover it could be read as one word.
In terms of telling stories, I write about it a little in the preface. My intention with this book is to tell people what we're able to do with science, and how exciting it is to be a scientist in this day and age, and to make discoveries. Scientists are not people we can't trust. Now it's really relevant. I want to bring the sense of discovery and excitement to a broader audience. Tree rings lend themselves to that because there are so many people who remember counting tree rings in childhood.
One of my favorite stories is the earthquake in the Cascades [circa 1700] and how [we proved that] it led to the orphan tsunami in Japan. It's amazing--it's a way to get people excited about things. I give public talks, and when I give anecdotes--what it was like in the coffee shop, seeing a hurricane--concrete anecdotes of what the life of a scientist is like and how it relates to our regular life, that helps grab people's attention and keep people's attention. That's also when the idea of storytelling came to me.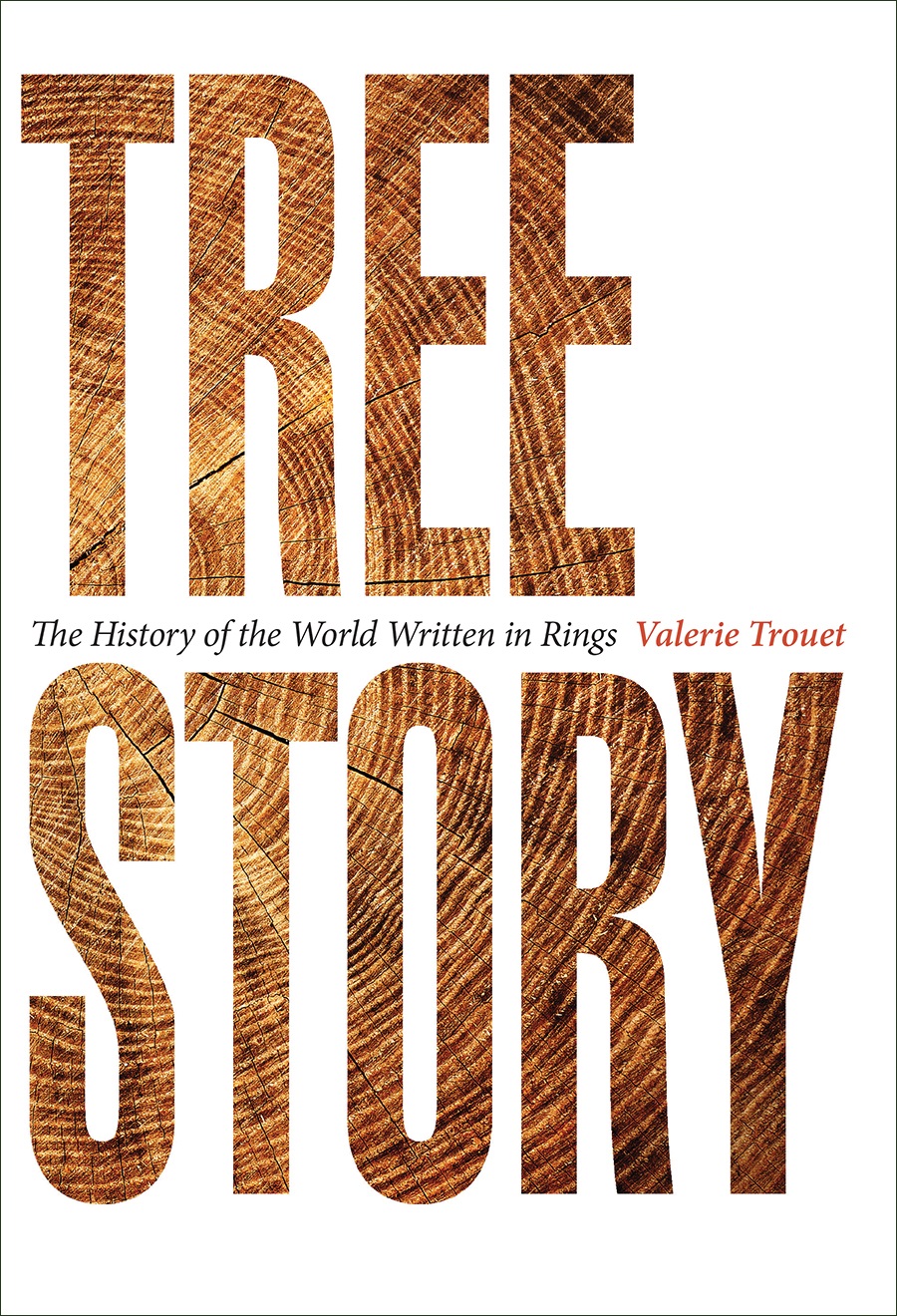 You describe a great deal of interdisciplinary cooperation. A favorite example is your work with Andy Baker, whose small stalagmite from Uamh an Tartair ("Roaring Cave") in northwestern Scotland helped you solidify your theory about the weather pattern "seesaw" between Scotland and Morocco--the NAO (North Atlantic Oscillation).
I think that's one of the most exciting aspects of being a scientist in general, and specifically being a dendrochronologist, because we're at the nexus of climatology, archeology and environmental history. I'm really excited about working with historical environmentalists--what contributed to the fall of Rome, and Genghis Khan. An environmental historian reviewed [a draft of] my book and gave me some additional reading material; even with this book-writing there's collaboration.
One element that's particularly fascinating about your work is the correlation you draw between trees' revelations about drought and the rise and fall of empires, such as the fall of Rome and Genghis Khan. Can you say more about that?
That's one example where collaborating with environmental historians has helped me write this book in the best way that I could. The relationship between climate change, and human society, whether they rise or fall--it's not linear. Climate isn't the only thing that contributes to success. But how society is structured and how resilient they are is an important factor in how they can deal with a changing environment.
Compared to historical societies, we're dealing with climate change on a global scale at this point; we can't just move somewhere else. On the other hand, we know climate change is coming; we know wildfires-wise. Historical societies didn't know what was happening. There was nothing they could do even if they knew about it. We're in a good position to handle climate change; it's frustrating that we're not.
What do you think about the satellite images that show that weeks of "sheltering in place" have greatly reduced pollution over our nation's largest cities?
That's not a surprise to me, not really. The cause of pollution is being turned down because people are forced to be at home. Reduction in pollution is an interesting side effect of what's going on. It's interesting scientifically, as an experiment of what could happen, and in that sense, I hope there are people out there measuring what's happening to our air and water.
What are you working on now?
In the second to last chapter, I talked about fire history in California. We're hoping to develop a fire history network in China. There's a lot of demand for that, but it doesn't exist yet.
Bookwise, I really enjoyed writing this book, it's my first, and it was serendipitous. I started a sabbatical in 2017, and I was looking to do something different, other than writing papers. My now editor at Johns Hopkins University sent me an e-mail, and asked how I'd like to write a book about trees and my research. Otherwise I don't think I would have written it. Now that I HAVE written it, I'm considering writing about deforestation. I think it's a no brainer that we shouldn't deforest. But people talk about planting trees, and that's a complex issue: Where do we plant? What species? What do we do if the trees die? The carbon can go back in the atmosphere.
Trees also take up space, they need water; we need land, we need water. So in a way, trees compete with other needs. They will grow. I've learned that writing a book is a great way to learn more about a topic that you're interested in.
--Jennifer M. Brown, senior editor, Shelf Awareness

Book Reviews
Mystery & Thriller
Dutton, $26, hardcover, 256p., 9781524745950
Science Fiction & Fantasy
Putnam, $27, hardcover, 320p., 9780593085172
Biography & Memoir

Norton, $26.95, hardcover, 352p., 9781324001898
Essays & Criticism
Grove Press, $25, hardcover, 208p., 9780802148186
Science

Dutton, $27, hardcover, 320p., 9781524744274
Princeton University Press, $27.95, hardcover, 248p., 9780691179513
Johns Hopkins University Press, $27, hardcover, 256p., 9781421437774
Nature & Environment
Counterpoint, $26, hardcover, 304p., 9781640091351
Mountaineers Books, $17.95, paperback, 208p., 9781680512076
Sports
Algonquin, $26.95, hardcover, 288p., 9781616207861
Children's & Young Adult

Putnam, $17.99, hardcover, 40p., ages 4-8, 9781984813787
Walker, $18.99, hardcover, 288p., ages 14-up, 9781536206050
---